Although separated by four thousand miles of Atlantic Ocean, friends Lauren Burke and Hannah Chapman together publish the online podcast known as Bonnets At Dawn, which takes a light-hearted look at regency and early victorian English literature, the specific bonnets in question being those of Jane Austen in one corner and Charlotte, Emily and Anne Brontë in the other, although other notable bonnets such as Elizabeth Gaskell, Louisa May Alcott and George Elliot are sometimes recruited into the ranks for good measure.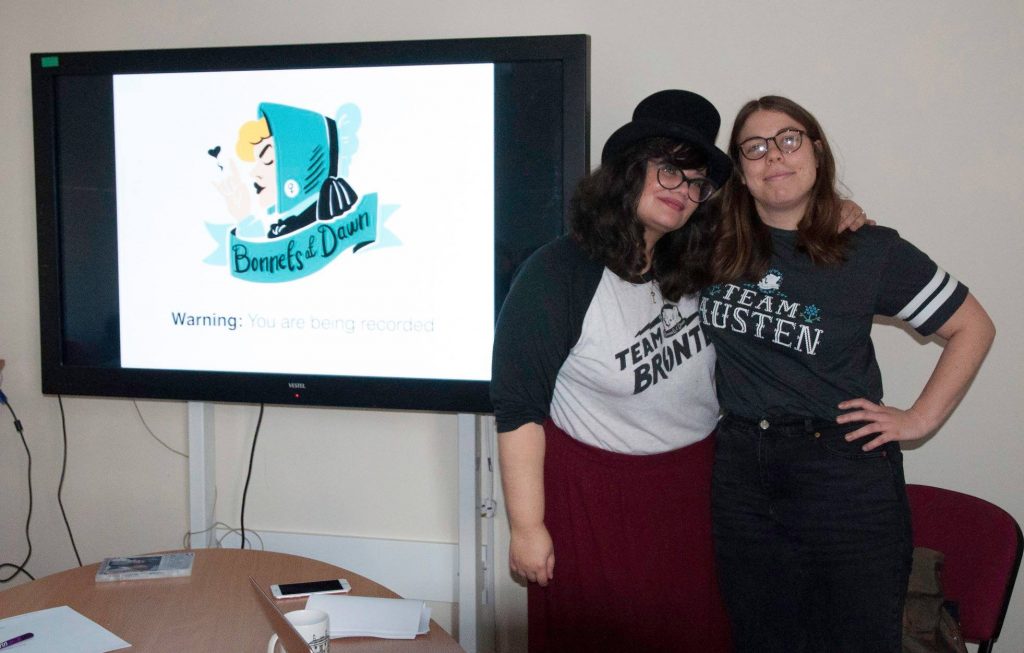 Regular visitors to Manchester, Lauren and Hannah recently crowd-funded the purchase of a US edition of The Tenant of Wildfell Hallby Anne Brontë, published by Smith, Elder & Co. in 1880, which they have now donated to the Elizabeth Gaskell House Museum on Plymouth Grove. I was thrilled when Lauren asked me if I would photograph the book for them. Pictured below with the book are Sally Jastrzebski-Lloyd, House Manager and Jane Baxter, Trustee, in the library at Elizabeth Gaskell House.

Elizabeth Gaskell House Manager Sally Jastrzebski-Lloyd and Trustee Jane Baxter reading from the 1880 edition of The Tenant of Wildfell Hall
Anne Brontë's second novel, The Tenant of Wildfell Hall, was first published in 1848 by Thomas Cautley Newby, with Anne using the pseudonym Acton Bell. It tells the story of Helen Graham, a mysterious and retiring young woman who takes up residence in the remote Elizabethan manor of Wildfell Hall in Yorkshire and of Gilbert Markham, a local gentleman farmer whom befriends Helen and her young son. As their friendship develops Gilbert learns that Helen is in retreat from an abusive, alcoholic husband named Arthur Huntingdon. Despite a relentless cycle of abusive behaviour, as a woman in nineteenth century England, Helen has little recourse to the law, nor moral support from the patriarchal culture in which she lives and is thus forced to take flight and live as an exile in hiding, attracting the disparaging attention of local gossip. In highlighting the cultural constraints, hypocrisy and victim blaming that made de facto slaves of many women, particularly amongst the English aristocracy, Anne Brontë is considered a pioneer of feminist writing.

The 1880 edition go The Tenant of Wildfell Hall
The Brontë biographer Winifred Gerin believed that the original of Wildfell Hall was Ponden Hall, a farmhouse near Stanbury in West Yorkshire. Ponden shares certain architectural details with Wildfell, including latticed windows and a central portico with a date plaque above, although the date above the door reads 1801, the year the narrative of Emily Brontë's novel Wuthering Heights begins, indicating that Ponden Hall was a place of inspiration to all the Brontë sisters.
This 1880 edition of The Tenant of Wildfell Hall can be viewed at Elizabeth Gaskell's House, Plymouth Grove, Manchester on Wednesdays, Thursdays and Sundays from 11am to 4pm. http://www.elizabethgaskellhouse.co.uk/visit
To join in the fun at Bonnets @ Dawn you can listen to Lauren & Hannah's podcasts at https://soundcloud.com/bonnetsatdawn or join in a discussion on social media at https://www.facebook.com/groups/BonnetsatDawn/
---