#lentbookclub is a loose association of people who broadly fall under the spiritual umbrella of Christianity. During the reflective season of Lent, we are invited to read a specific book, chosen by group consent, and comment about this on social media. The group is open to everyone, those who identify as 'Christian' in whatever manner, and those who do not.

For Lent 2021 we are reading The Way of Julian of Norwich by Sheila Upjohn. I am supplementing my reading, by way of contrast, with Pantheologies: Gods, Worlds, Monsters by Mary-Jane Rubinstein.

Julian
What little is known of Julian comes mostly from her own writings. She was an anchoress who lived in the city of Norwich in the fourteenth century. In the spring of 1373 she became seriously ill. During her illness she received a series of 'shewings' during which Jesus Christ appeared to her and spoke with her. Having recovered from her illness she chose to live a life of seclusion in a small 'cell' adjacent to St Julian's Church, where she meditated on her experiences and wrote about them. Her book A Revelation of Divine Love is thought to be the first written by a woman in the English language.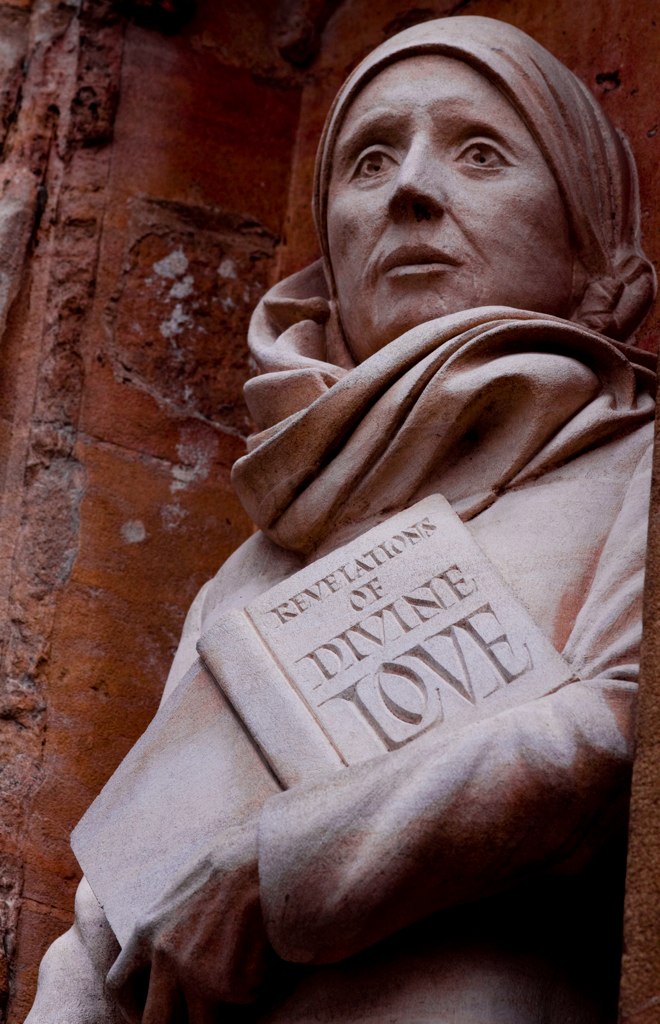 Week 1
Contemplation of a God who is with us in our defecation is a great way to start Lent, I think. Especially after all those pancakes. It brings to mind Earnest Becker's comment about human's being gods who shit. Here is the appropriate passage (no pun intended, honestly) from Chapter Six of A Revelation of Divine Love. 
A man walks upright, and the food in his body is sealed as in a well-made purse. When the time of his necessity comes, it is opened and sealed again most properly. And that it is God who does this is shown where he says that he comes down to the lowest part of our need. For he does not despise what he has made, nor does he disdain to serve our humblest earthly needs. For he loves the soul he has made in his likeness. 
Recently, I have been watching the Russell T Davies drama It's a Sin, set in the gay scene of 1980's London. It struck me that the scenes where the humanity of the characters shone through most palpably were those in which they or their friends had succumbed to the ravages of AIDS, and were confronted by an inevitable death. Here in the lowest point of their need did they find an outpouring of service, compassion, devotion and love. It also struck me that, regardless of gender and sexual preference, we all share in this aspect of our humanity, coming to terms with the shame of our lowest needs, confronted by an inevitable death. The vision of Julian is that in our greatest need God is not only with us, but loves us. 
---
Lent Book Group can be found at https://www.facebook.com/groups/LentBookClub